Latest Britney Spears News ...
Move sought in Spears case
February 15, 2008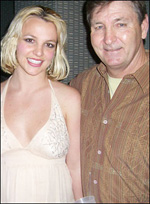 The father of troubled pop star Britney Spears will retain control over her affairs until a scheduled March 10 hearing, a Los Angeles court ruled yesterday, even as a new attorney sought to move the case to federal jurisdiction. The attorney, Jon Eardley, is linked to an associate of Spears's friend Sam Lutfi.
Spears's father, Jamie, was granted "temporary conservatorship" over her affairs two weeks ago when the 26-year-old was in a Los Angeles hospital for psychiatric evaluation. In a related filing, Eardley claims the singer is being deprived of her civil liberties and that restrictions placed on Spears by her father "interfere with the effectiveness of the scheduled medications" she is supposed to take.
Source: The Boston Globe
---
Is Britney Spears Married?
February 14, 2008

Britney Spears married Birmingham's own Adnan Ghalib in a secret ceremony last month, according to rumours.
Star Magazine claims the couple married whilst in Mexico on January 9 in a quick ceremony.
However if the report is true the nuptials are probably illegal because pap Adnan is still wed to a British woman.
The mag says when Britney found out she dumped him in mid-January and later took him back. They also claim Spears gave Ghalib over €125,000 to speed up his divorce.
Source: MTV UK

---
PETA Blames Britney's Diet For Her Mental Issues
February 13, 2008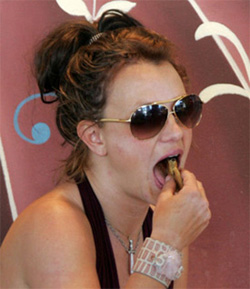 Thank God PETA weighed in on the whole "Britney Spears Crisis". I had it between them and the Pope as the next to explain to us why she's suffering and how she can help herself. Their comments are particularly interesting ... and they've gone so far as to send one of their famous letters to her parents. However, this one is termed 'friendly' and 'helpful'. Here's a bit of what will most likely end up in the garbage before gracing their eyes. From the thoughts of PETA President Ingrid Newkirk:
"We have heard that Britney asked for ice-cream while she was in the hospital. There could, in fact, be a connection between her diet and her mental-health problems. Numerous reports indicate that in bipolar patients who have hidden dairy sensitivities (a fairly common condition), the disorder can worsen if the patient consumes dairy products.
"And a significant body of research-including evidence cited by the Centers for Disease Control and Prevention-has linked parasites that are often found in undercooked meat (Toxoplasma gondii) to the development of schizophrenia."
The letter then goes on to say that Britney should immediately be placed on a Vegan diet to benefit her mental and physical health. Ingrid even includes a copy of PETA's free "Vegetarian Starter Kit". How kind.
We cover PETA consistently on this site and respect the efforts they take to make the world a better place for animals. However, this is one of those actions that only invites ridicule and senselessly exploits the troubles of another individual to push forward an agenda. This is over the top, plain and simple.
Source: ecorazzi
---
Britney Spears Teaches Kids' Dance Class -- Schedules Second Lesson For Tuesday Night
February 12, 2008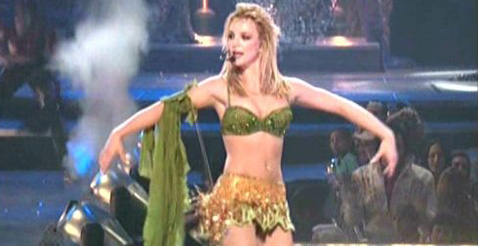 On Monday night, at the Millennium Dance Complex in North Hollywood, California, a group of aspiring dancers between ages 4 and 7 received the shock of their lives when embattled pop star Britney Spears unexpectedly strolled in to teach the hour-long class.
According to Robert Baker, director of the complex, the role of teacher is one that suits Spears, who has taught classes at the facility before; the time she'd done so was soon after the birth of her second son, Jayden James, back in 2006.
"She's been a client for 10 years, and she loves dancing and she loves kids," Baker told MTV News on Tuesday (February 12). "She has been rehearsing in our facility for the last month and a half for her next video, and she said, 'You know, I'd love to teach a class.' It's something she's done sporadically over the last 10 years. And the kids just loved it. She asked me to pick some kids for her to teach. The kids loved her ... she was warm and friendly."
Baker said Spears wore red boots, a green shirt, a black-and-white tie, black shorts and fishnet stockings.
Spears did such a good job that she's scheduled to lead another dance class on Tuesday evening — before a much larger group of 25 kids between ages 7 and 11.
"When she walked in, the kids were in shock ... they didn't know she was going to be teaching, but we did tell the parents beforehand and they were thrilled," Baker continued. "She went over to the class, said, 'Hi, I'm Britney ... what's your name?,' and she greeted them all individually. She got them warmed up and taught them a little routine, and they just had a blast. It was a wonderful experience for all."
Spears also taught the kids some of her signature moves, before having them form a large circle, in which one child at a time had their moment to shine, freestyle dancing in front of the entire class and the paparazzo-target; Baker said a cluster of photographers maintained a presence outside the studio for much of the night, and police were summoned to control what was "a chaotic" situation.
"She was rehearsing, and just said to me, 'I'd love to teach again,' " Baker said. "Her thing has always been giving back to the dancing community, so she loves it, and this place has been her kind of refuge away from the madness. We've grown up with her, and watched her grow up. She was with us from the beginning, and she is always welcome to teach here."
And according to Baker, the parents had no problem leaving their offspring with Spears. "One of the moms summed it up by saying, 'What a wonderful once-in-a-lifetime opportunity to have my child taught by someone who has inspired so many kids to dance,' " Baker said. "I thought that was a pretty powerful statement."
As for Spears' erratic behavior as of late, Baker said he's never known that side of the singer — and he'd love for her to come back and teach as often as she'd like.
"She wasn't acting strange last night, and really, we have never seen her act strange," he said. "All the speculation out there that she has a mental illness ... that's never been an issue. We've never seen or experienced any of that."

Source: MTV